Endless Wars Based On Endless Lies

(If you can read while listening to music, you should play this song we selected for this post! Just hit the play button!!!)
"By way of deception, we shall make war" The Babylonian Talmud
Going from killing animals to killing human beings is a short leap if you wrap HUGE LIES in an American flag and sell it as patriotism. Our satanic jew leaders make up bogus stories of why war is necessary and use their media to sell you on it. To confirm the story you're told, you compare what you read in your newspaper to what you hear on your radio and see on your TV. You even double check by turning the channel a few times before you accept what you are hearing as the truth and support the "required" actions of our nation. But now you know that ALL YOUR MEDIA SOURCES are owned by the SAME GROUP OF LYING SATANIC jEWS. Do you remember the one about Iraq having weapons of mass destruction and Saddam Hussein being responsible for the 9-11? Do you still believe that? The truth of course is that the Iraq war and all others have all been orchestrated from jew LIES for the sole purpose of installing their puppet leaders and their central banks to siphon off the natural resources of all the peoples of earth on their forward march to the jew World Order.





War is big business for these heartless rulers and American military has been turned into Israel's personal army in order to keep the money flowing. These satanic war mongers:
Make hundreds of billions of dollars from manufacturing companies who hold the contracts for producing the majority of military equipment being used by

all sides in every war

Make hundreds of billions of dollars from selling billions of gallons of gas, diesel and jet fuel to

all sides in every war

Make hundreds of billions of dollars from selling billions of gallons of oil to create billions of pounds of plastics and composites used by

all sides in every war

Make hundreds of billions of dollars from contracts for owned private contractors like Blackwater and Halliburton
Make hundreds of billions of dollars off interest from loans to fund all wars
Make hundreds of billions of dollars off the CIAs' illegal worldwide Heroin industry made easier by war and they
Make hundreds of billions of dollars from drug/medical companies who provide meds and long term treatment to our soldiers when they come home




Isn't it amazing how many ways these criminals have and continue to profit and benefit from war? The satanic bonus is that they also succeed at keeping Adamite blood flowing. They take your most clear eyed, patriotic young people and destroy their lives by exposing them to unspeakable acts of evil which maim them for life both physically and mentally or allow them to die in far away lands. Those who do return home are so screwed up that every day 22 of our once bright Adamite youths commits suicide due to confusion and horrors of unknowingly warring for the jew. And of course those far away lands are filled with innocent families and children whose lives and heritages are also being sacrificed in this sick, twisted, sadistic game of the parasitic, satanic jew. Do you consent to any of this?
































During Vietnam, a sickening amount of 18,000,000 Gallons Of Monsanto's Agent Orange Was Sprayed, killing its people, forests, farmlands and untold millions of creatures such as 800,000 Water Buffalo. Not to mention the ongoing side effects still being felt by the innocent Adamite peoples who are unfortunate enough to have to live there today.




















Leaked documents reveal US-led forces in Afghanistan used white phosphorus bombs, grenades, rockets and bombs over 1,100 times in densely-populated areas. White phosphorus is a substance that burns upon coming into contact with human flesh; it sticks to the skin and continues to burn as long as there is oxygen. The result is horrifically agonizing, severe and lethal chemical burns. According to international conventions the use of white phosphorus is to be restricted exclusively to areas that are not densely populated.

Are you ready to hold these soulless torturers accountable? We are but we can't do it without YOU!





In 2011, the US spent $711 BILLION on its military; that's more than the next 13 nations combined. According the The June 2014 issue of the American Journal of Public Health, "Since the end of World War II, there have been 248 armed conflicts in 153 locations around the world. The United States launched 201 of those 248 overseas military operations between the end of World War II and 2001, plus others including Afghanistan and Iraq …." Which Total 80% of ALL WARS solely due to Americans LIKE YOU not speaking out against Murderous satanic jews who've taken over our country!!!






Another almost unbelievable fact is 9 Out Of 10 killed in modern wars are civilians. Ask yourself how this is possible when your taxes pay for the worlds most advanced, precisely targeted killing machines in history? Will you help protect your children and the children of the world from these maniacal murderers! You'd Better or YOU'RE NEXT. (That's a Fact)




























"I'm choosing good over evil, light over darkness. I choose humanity."
---
The SOLUTION
There is obviously no shortage of murder, fraud and injustice we could go on to showcase but there are plenty of other people reporting on these same wrongs in the world today. The obvious difference is that we have come up with a SOLUTION . . . you know, a FIX! YES, WE HAVE! It's a new system designed around Unified Numbering, a network designed to be owned by it's users who will be able to openly converse and vote on all major issues as a true democracy, use their own form of currency, take back control of all of their personal information along with countless other common sense things. All without the influence of satanic jews who have hijacked every power position in our world today. IT'S TIME for We The People to take back our power, once and for all! FOREVER. THE MEN AND WOMEN OF EARTH MUST RULE THE EARTH AS GOD INTENDED. Not satanic jews. Duh!

Here are your tools for change;



As you have read elsewhere on this site, we welcome anyone into the Unified Numbering Network. We do not believe in sugar coating the truth to make it "politically correct" or to spare the feelings of evil doers. We are not responsible for the fact that most of today's criminals are from minorities, immigrants and jewish e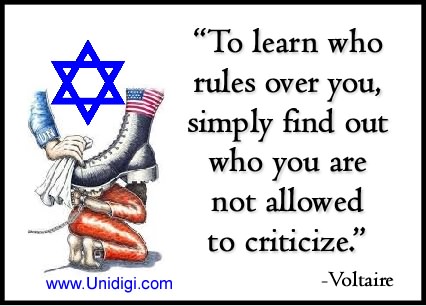 thnic groups whose allegiance is only to themselves and their god satan of evil, destruction and death. It is a fact that we will be called "anti-semitic" by those criminals which is their first reaction to anyone shining a light on their disgustingly perverse and nefarious activities.
But, rather than allowing satan worshipping jewish thought policemen like the ADL force us into the defensive, we are proudly anti-satanic and anti-corruption. If that means being called anti-semitic and anti-government in the process, so be it but both are lies. 94% of Americans disapprove of congress and the only people who like satanic jews are themselves so why would we be any different?
Therefore, we consider those labels to be an unmistakable sign of good character and solid mental health, we wear such labels as true badges of honor. It is good for all of us to remember a lesson from our childhoods; "Sticks and stones may break my bones, but words will never hurt me." Neither forms of bogus jew attacks matter in this righteous war between good and evil. They have no ground.
To continue to ignore the truths uncovered by the multitudes of thoughtful, highly intelligent and courageous prophetic voices across history when there is overwhelming evidence to the contrary is to helplessly go along with the evil agenda of exploitative, psychopathic, satanic powers. It's imperative that these criminals be tried in a court of law and suffer punishments equal to the crimes which have been committed against you, your loved ones and your world!
SHARING THE TRUTH and UNITING in our efforts is the only way it will be possible to experience life how it was intended by our Creator! Be that a "Force", a "God" or "Mother Nature", We of Goodness Must All Line Up Behind the Righteous Glory and Selfless Pride of That Which Created Us and Makes us Care, Not what Destroys Our Spiritual Connections or Binds Us to Materialism, Subservience and Destruction. It's a choice, IT'S YOUR CHOICE and you're making it 24/7, but especially right now!


Here's an excellent little 15 Minute Video to finish connecting the dots on jews and murder.
The Hypnotic Spell Is Being Broken.
You're Beginning to See The Proverbial Lines Have Been Drawn and Now

It's Time To Choose a Side. Are You For; War, Evil, Lies, Death and Destruction (satan/sin)?
or Are You For PEACE, GOOD, TRUTH, LIFE and CREATION (God/Nature) as a Man or Woman of Earth?

Real Jews and Adamites Alike, It's a simple choice and You're Making it Right Now, EVEN IF YOU DO NOTHING!
DOING NOTHING RIGHT NOW OR DOING SOMETHING RIGHT NOW PROVES YOUR DECISION

You Can join for Free & Contribute Later If You Want, There's No Pressure to Give
BUT YOU HAVE NO CHOICE IN WHETHER OR NOT YOU DECIDE
YOU'RE SHOWING YOUR TRUE COLORS RIGHT NOW

Inaction = Evil -and- Action = Good

It's Nice and Simple.
Godspeed!

"All that is necessary for the triumph of evil is that good men do nothing."